In this article we discuss what each Keyto level relates to and general recommendations to ensure your score is accurate.
Overview on Keyto Levels: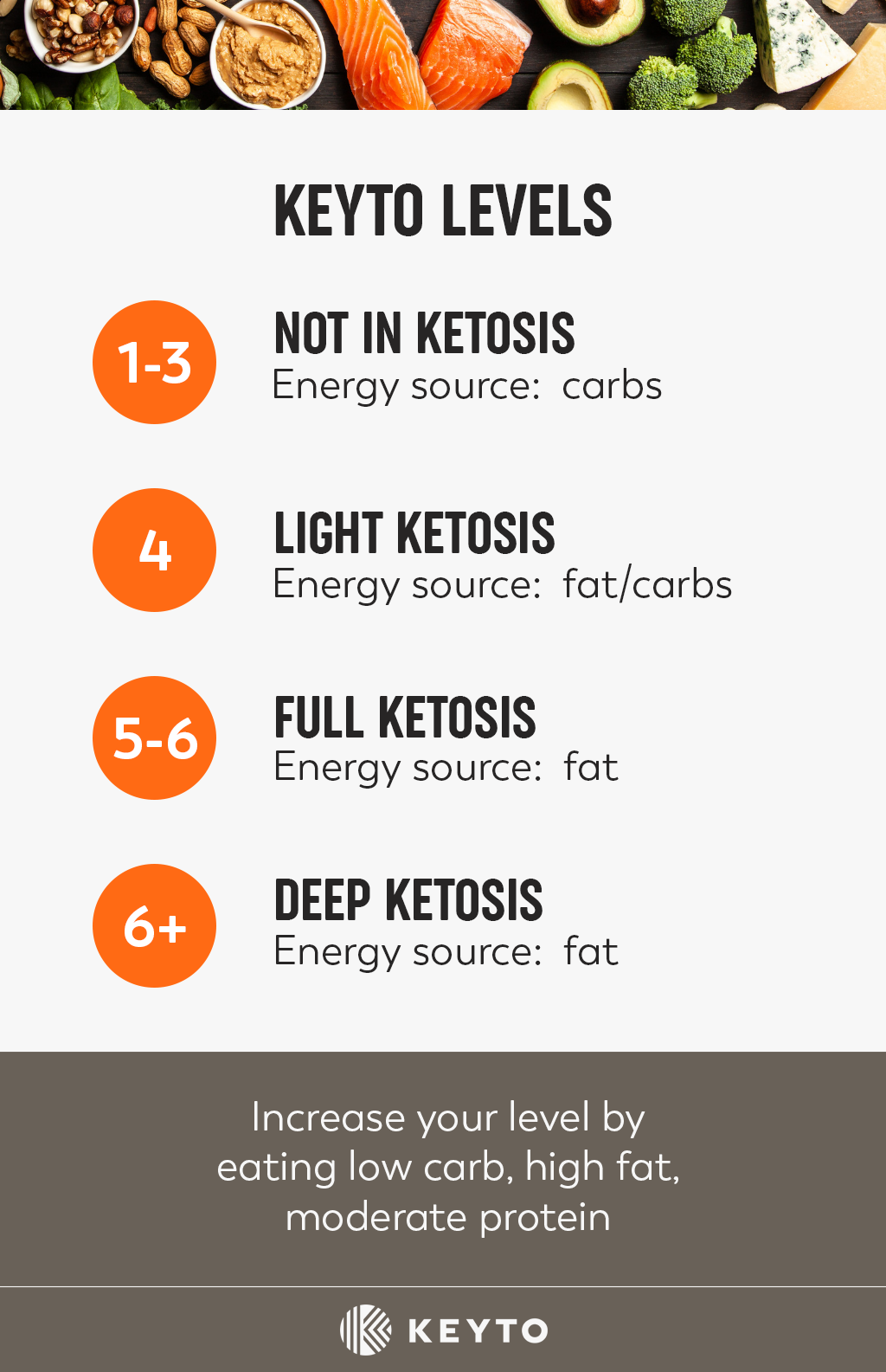 We have created our own system of Keyto levels that range from 1-6+.
Here is an overview on Keyto Levels:
Level 1-3: You're using carbs for energy. Limit carbs and sugar to increase your level.
Level 4: You're in light ketosis and using fat for fuel. This is a good level to be in, and you will see results.
Level 5-6: You're in full ketosis and using mainly fat for fuel. These are optimal levels to be in (reaching level 6+ is not necessary to see results).
Level 6+: You're in deep ketosis. This level can be achieved with prolonged adaptation to the diet or fasting. Genetics also play a factor!
How do the Keyto Levels compare to PPM:
The Levels respond to approximately the following measurements:

0 ppm = Levels 1-2 = Not in ketosis
1-4 ppm = Levels 3-4 = Light/almost in ketosis
5-9 ppm = Level 5-6 = Ketosis
>10 ppm = Level 6+ = High ketosis
How many times should I blow into the Keyto:
We recommend you use your Keyto Breath Sensor 3 times per day:
in the morning before breakfast

midday before lunch

in the late afternoon or evening before dinner
Why are your Keyto levels too high/low:
If you believe your device isn't showing the correct level, we recommend troubleshooting your device.
If your device is working correctly, the following tips might help.
Make sure that you're breathing into the device properly.


If you haven't already, take a look at our video on how to blow to get an accurate measurement:

https://www.youtube.com/watch?v=8L0qeynKPhc&feature=youtu.be

. It is important to breathe naturally and get to the bottom of your breath as that is where the acetone is. Keyto is measuring acetone in 2 parts per million so slightly different breathing could be the cause of that.


Check your protein levels.


Is it possible that you're eating too much protein that could have caused your levels to drop? I would recommend you try increasing your fats and see if that increases your score.
Why results vary from person to person:
Everyone's physiology is different and defining exactly when you will achieve nutritional ketosis is difficult. There is no magical formula or algorithm, only guidelines that can lead you down the right path.
Some people can get into ketosis in as little as 1-3 days, but others may take a week or more. It is highly dependent upon genetics, level of carb restriction, activity level, age, etc.